You can order your booklist items by creating a ReadCloud bookstore account and adding items to your cart for checkout.
Ordering your enrolled pupil's booklist items for King's InterHigh is a breeze with ReadCloud.
Please follow these steps to order your pupil's books.
You will need your welcome email with a unique ordering link for your enrolled pupil handy. Welcome emails have been sent out to all parents and guardians. Reach out to us at support@readcloud.com if you haven't received this email and unique link.
1. Click your unique ordering link
Inside your welcome email is a unique link. Clicking this link takes you to the ReadCloud bookstore. You will be prompted to set a password for your enrolled pupil the first time you visit this link. Otherwise, just click Reset Password and follow the password reset instruction sent to your pupil's email.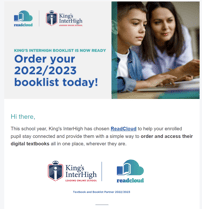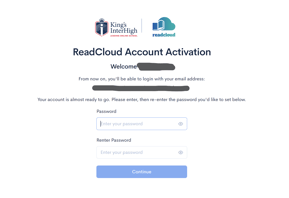 If you have multiple students enrolled with King's InterHigh, you will have received a separate welcome email for each student.
2. Log in to the ReadCloud bookstore
Once you have set your password, you'll be prompted to log in with your enrolled pupil's student email address and the password you set earlier. The ReadCloud bookstore can be found at
interhigh.bookstore.readcloud.com
.
Enter the student email, press continue then enter the password.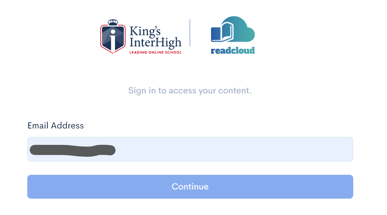 3. View and select your booklist items
Your enrolled pupil's year-level booklist will be highlighted.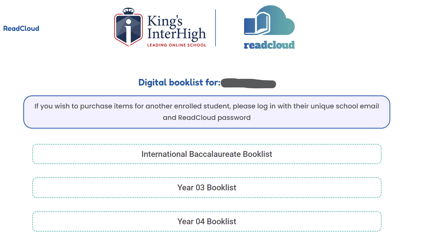 You can click on each of the booklists to view a list of the items prescribed by King's InterHigh for each of the subjects.

For those which are greyed out (out of stock), we are working hard with the Publishers to make them available as soon as we can. Thanks for your patience and understanding while we work to have them available in the bookstore.
Add the required items to your cart
Click the checkboxes next to the items you want to purchase and click Add to cart.


View your cart and checkout
Hovering over the cart icon in the top right corner will allow you to hit the View Cart or Checkout buttons and proceed to the payment stage to finalise your order.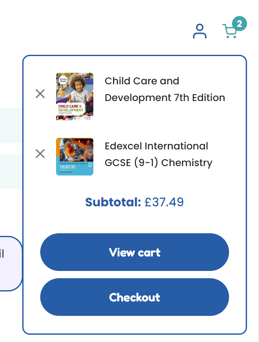 4. Confirm your order and checkout your cart
On the checkout page you can view a list of items you intend to purchase, enter your billing details and also pay with your credit card (Visa, MasterCard, American Express accepted).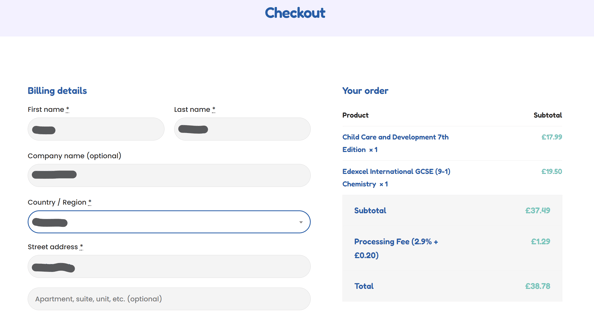 Following payment confirmation, you will receive an order confirmation in your email.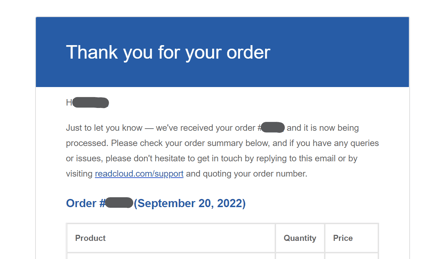 5. Access your content!
Your digital textbooks will be instantly provisioned into your student's King's InterHigh ReadCloud account. Your student can access the content instantly inside ReadCloud via a link in the Student Hub and log in via Microsoft 365 with their student email and password.
Having difficulty completing a purchase? Visit our website and support page for FAQs or to submit a help request with our friendly customer service team who can troubleshoot and help you out!