ReadCloud Content Manager enables teachers to upload their own curated content for either personal use or to share it with their class clouds to further contextualise learning.
We know that it's important for teachers to be able to personalise and contextualise content and resources for your students and to implement differentiated learning strategies. That's why we've provided the Content Manager so that you can upload resources that you create yourself or curate from other sources so that you can have alongside publisher interactive content and your digital textbooks, all in one easy location to access and use in the classroom and at home for students.
Accessing the Content Manager
From the bookshelf, select the 'Curate Your Own Content' tile located at the end of any virtual Class Cloud. This will take you to ReadCloud's Content Manager.

You can also use the "Add" button at the end of the Class Cloud to enter the Content Manager.

How to upload your content
Open upload box
Select the blue

plus icon on the top right corner of the Content Manager.

Select the content type
Select the type of file you would like to upload. You can upload the following types of content:
PDFs
ePUB
Word/ Excel/ Powerpoint (MS Office documents)
An external website or URL
Audio files
Videos
Images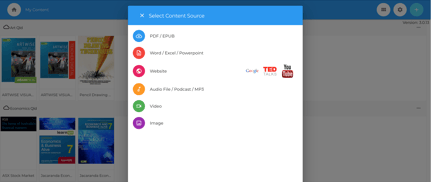 Choose your file and customise it's thumbnail
Select "Choose File" to browse your device for the file you would like to upload or enter the URL of the website you'd like to add, then select "Next".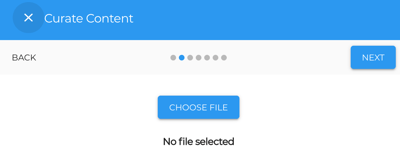 From here you can edit the Thumbnail Text that will be displayed on the file in the Bookshelf, or you can upload your thumbnail cover image to make it more distinctive.
Edit the content details such as Title and Description, If you wish to disable the ability of students to make comments on it, please tick the box.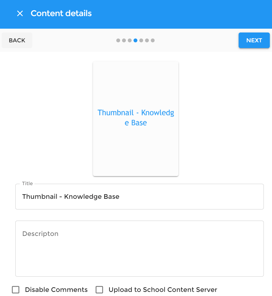 Ticking the upload to School Content Server box will allow you to share the document with other staff and students to make use of it by having the content hosted on-premise inside your school owned server, instead of ReadCloud's cloud hosting. Please talk to your IT admin or nominated Super User if you are unsure whether to tick this option.
Choose which clouds and users to share the content with
Share your document with users inside the virtual Class Clouds you want or select "Next" without clicking any Clouds to keep the document for personal use only.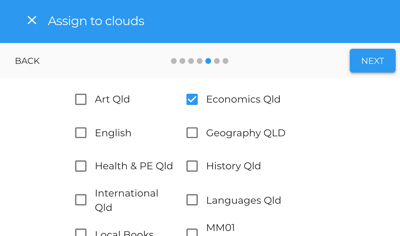 You can choose to tag specific individuals inside the Cloud only to see the content.
If you wish to share the document with other Class Clouds which you can't see on this list, please select "Local Books" and refer to this article.
Accept the copyright terms
When sharing a document with your Class Cloud, please respect all Copyright terms of any third party publisher and/or authors of the content. Accept this Terms and Condition statement and select "Finish".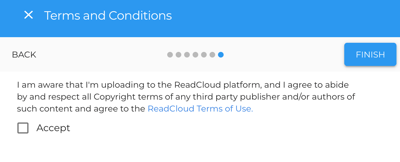 View your content
Select the 'Home' icon on the top left corner to go back to your bookshelf and exit the Content Manager. Your uploaded document should be visible in the Class Cloud you selected during upload.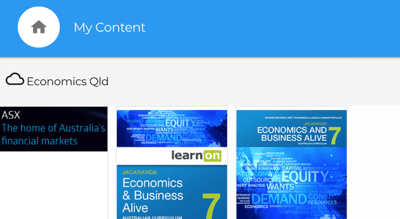 Learn More
Watch this Youtube tutorial to find out more about ReadCloud's Content Manager.