If you haven't given the ReadCloud app correct permissions during installation, you may run into this error. Here's a quick fix to get you back on track.
When the ReadCloud app is first installed on your MacOS (OSX) device, it will ask you for permission to your User's document folder. If you don't allow permission, the following error will appear when you try to open ReadCloud.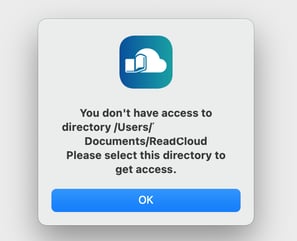 There's a couple of ways to fix this.
Reinstall the ReadCloud app
Adjust privacy settings
Reinstall the ReadCloud app
The simplest way to fix this is to reinstall the ReadCloud app. Uninstall ReadCloud from your device and then run the install file again. When prompted, make sure document permission is granted.
When you open the ReadCloud app, you should no longer receive the error from before.
Update privacy settings
The other way, is to follow these steps to adjust your privacy settings:
Go to System Preferences and navigate to Security & Privacy
Click on the Privacy tab
Scroll down the left-hand column to Files and Folders
Then on the right-hand side scroll down the list of apps until you find ReadCloud and click the checkbox next to Documents Folder (it should appear as below)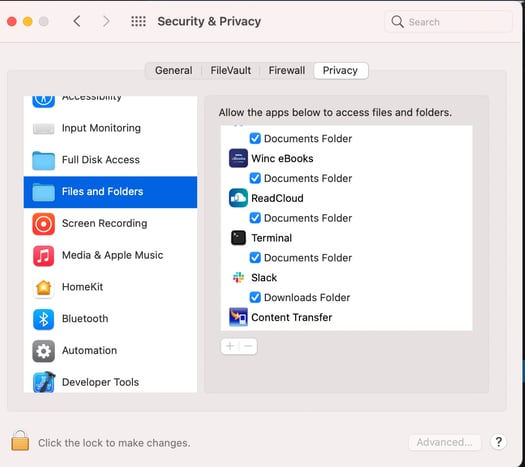 When you open the ReadCloud app, the error from before should no longer appear.
Still having difficulty with this error?
Reach out to our support team at opssuport@readcloud.com and one of our customer support team will be in contact to help you troubleshoot access.