eBooks can be downloaded for reading and access when you don't have access to the internet.
Sometimes we don't always have access to the internet. We know that internet connectivity can be a bit tricky, with intermittent outages or network bandwidth and latency issues making it problematic to have access to the content you need. That's why we enable you to download your books for offline access to your device so that you can access your curriculum resources wherever you are without the need to connect to the internet.
Downloading books
Login to ReadCloud and navigate to the Class Cloud and eBook/resource that you want to access. Click the tile to open it. The very first time you click a tile the ReadCloud app will download the book to your device.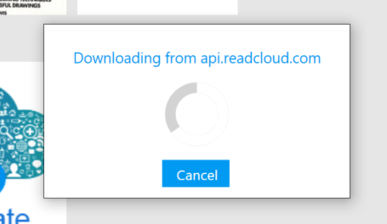 Annotations, comments and highlights offline
You can continue to use the Learning Toolbar and Enhanced Annotations to markup, highlight and make annotations on your eBook even if you don't have internet access.
Comments, annotations and highlights that you have made on your eBook and shared with others will be stored locally and will synchronise with the cloud as soon as your device has internet access again, enabling those you have shared them with to view them and for you to see them on other devices you have installed ReadCloud on.
Removing offline books
If you're running out of space on your device, you can remove a downloaded book from the ReadCloud app. Just right click (if using a PC or laptop) or long press (for mobile devices) to access the Details menu.
Click Delete local copy to remove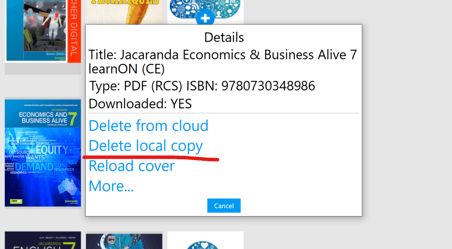 If you want to remove a book or uploaded content permanently, use the Delete from cloud button in the menu options. But be careful when using this as you will no longer have access to that content.