Teachers can obtain complimentary teacher's resources for any Nelson Cengage textbooks adopted as class text.
Requesting Teachers Resources
Teachers can request for teacher resources by first creating an account on nelsonnet.com.au. Once logged in, teachers need to complete the Request a Title form located on the top menu bar.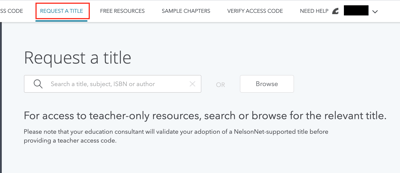 This request will be assessed by a Nelson Cengage representative, and upon confirmation or approval, your Nelson Cengage title will be made available on your NelsonNet bookshelf.
Learn More
For more information on your NelsonNet digital resources, please visit the NelsonNet support page.