You can export all of the text-based annotations into a PDF document or a CSV file format.
You may wish to export your annotations so that you can study them later, test your recall as a student or to print them out as a hard copy. ReadCloud lets you export all your annotations including the annotated text as well as your comments or notes added to the text into a separate file for this purpose.
Open up the Annotations Export tool
From your ReadCloud bookshelf, select the title you wish to export annotations from and right click (or long hold on a touch device). This will bring up the option window where you can select "More" and then select "Export Annotations".

Select your annotations
A new tab will open inside the ReadCloud app and take you to the Annotations Export
Decide on which annotations to export – those that are private, those that are shared and those that are shared but only made by you.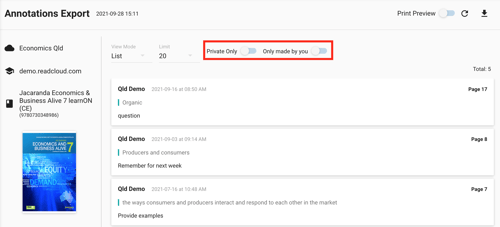 Choose between List View and Table View
List View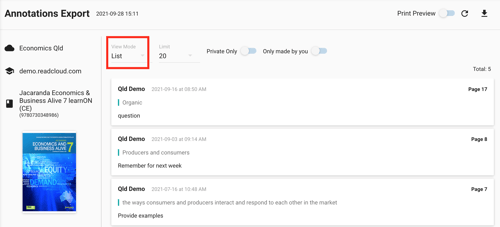 Table View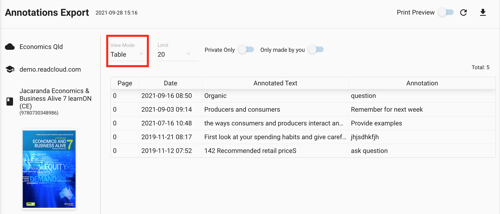 Select the limit for the maximum number of annotations you wish to export to 20, 50 or 100.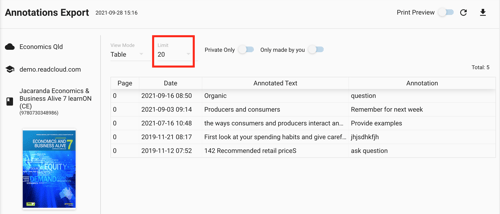 Print to PDF
Select the Print Preview to view preview how your annotations will appear in PDF format, then press the print button.
Windows Devices
Pressing the Print button will bring up the Microsoft Print dialog box. Hit "Print to PDF", name your file and choose where you want to save it then press "Save"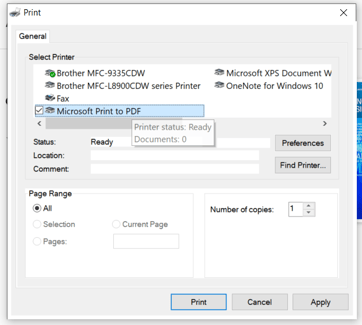 Export to CSV
Select the Download button to download your annotations into a .csv file.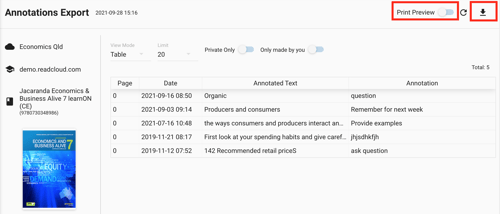 Press "Save" to store the file to your local folder.