In the eBook, teachers can create basic or advanced annotations, and share the annotations with the entire class or a few selected users.
Creating an annotation
Open the Learning Toolbar
Highlight the word, sentence or paragraph that you want to highlight and annotate and the Learning Toolbar appears. Click the "Create Annotation"

icon to open the annotation popup box.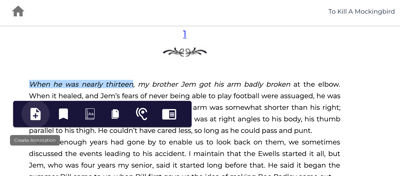 Write out the annotation
Write out your annotation or comment to go with the highlight. You can also change the colour of the annotation here, using different colours to represent different categories or types of things to recall.
Share your annotation
By default your annotation will be private. Click the share

icon to choose who can see the annotation. You can share the annotation with your entire Class Cloud or only specific users.

View and Manage Annotations
Click anywhere on the page and the header appears. Clicking the Annotations and Comments

icon in the top right of the header next to the Search icon will bring up the ReadCloud Annotations and Comments thread.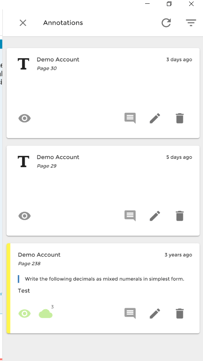 All of your annotations will appear here.
Interacting with annotations that have been created
In the Annotations and Comments thread, you can edit your annotation by clicking the pencil icon.

Teachers are able to view all shared annotations and delete any annotations and comments that are not appropriate. Click the bin icon to do this.

Clicking the chat icon

will allow users who can view the annotation to comment on it and engage in a discussion about a specific highlight
Edit the sharing settings directly by clicking

Clicking on any annotation card will allow you to go directly to the annotated page and view the annotation.
Learn More
Watch this Youtube tutorial to find out more about ReadCloud's real time annotations and how to make, edit and view your annotations.