This article will provide a step by step guide on how to activate a Pearson digital access code so that you can access Pearson digital learning products.
Activating your digital access code will allow you to access Pearson online products inside Pearson Places.
Pearson digital access codes may be found:
inside your print textbook
purchased separately as a standalone digital only title
as a reactivation code
Pearson Places appears as an interactive tile on your ReadCloud bookshelf. Please read How do I access Pearson Places from inside ReadCloud? for more information about accessing this interactive resource.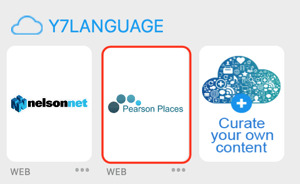 Follow these steps to activate your digital access code and access your Pearson digital learning resources. Have your 12 digit numeric digital access code ready.
Access Pearson Places
Login to ReadCloud and click on the Pearson Places tile to be taken to the Pearson Places dashboard. Click the Add e-Book button as shown below, found in the bookshelf.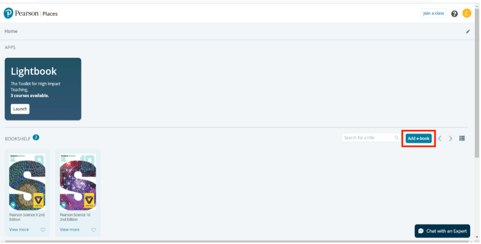 Enter the access code
Enter the 12 digit digital access code in the popup box and then select Add eBook.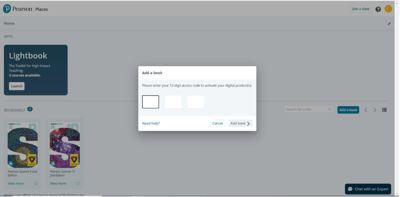 Enter the Reactivation code (secondhand books only)
Please note: if your printed textbook is a secondhand textbook, you will be asked to enter a 'Reactivation code'. The Reactivation code can be purchased from your bookseller (or booklist supplier).
Acces your resource
Your digital resource should now appear on your Pearson Places bookshelf.