ReadCloud activates user accounts with the relevant publishers for you and saves your credentials so that you're logged in automatically when you click a tile.
Many publishers include Interactive resources that enhance digital or physical textbooks. You can access these resources directly through the ReadCloud app without having to enter your password and login details each time thanks to our integrations.
Initial setup and activation
During the Back to School period or when your school has signed up to the ReadCloud platform, we will activate user accounts for teachers and students with the relevant publishers.
If students purchase their booklist requirements through a school-appointed bookseller, the bookseller will activate students' accounts upon purchase for your school. User credentials (username/email and password) will be saved in the app so that when you click on the publisher's interactive tile, it will take you directly to the publisher's website and log you in automatically.
Accessing Publisher Interactive Content
To access these resources, tap on the tile and you will be taken to the resource.
Where ReadCloud has an integration (LTI) with the publisher, you will be logged directly into the their interactive platform, without the need to enter a further username and password. .

For other publisher interactive resources, ReadCloud will fire up a browser inside the ReadCloud app and take you to the publisher's login page where you may be prompted to enter your username and password once in a dialogue box that appears. This will be saved so that you don't have to enter them again.

Occasionally you may be taken to an external website outside of the ReadCloud app for certain publisher resources. Enter your publisher login details directly into their login page and remember to save your credentials in the browser in order to return without needing to re-enter them.
How to save and edit your login credentials if you are not logged in automatically
The first time you click on the relevant publisher's interactive tile, a login box may appear. Enter the correct credentials for this particular publisher's website, and click Save.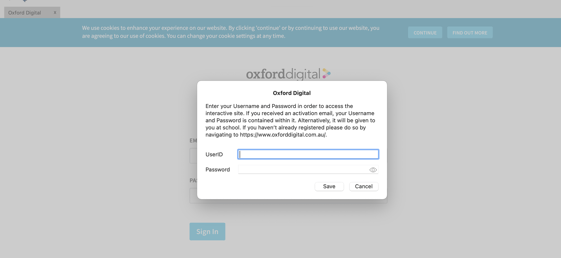 If you need to edit the login credentials because you accidentally clicked away or your passwords on the Publisher website have changed, right click (or long-hold on touch screen devices) on the Publisher's interactive tile, and select "Edit login data" to update your password.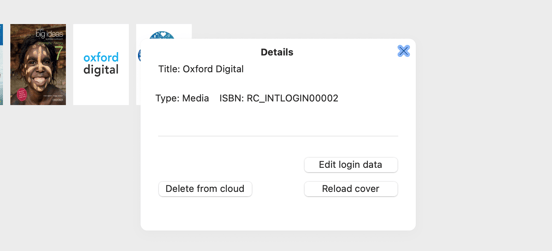 You can watch our YouTube tutorial below to see how you can access various Publisher's Interactive content from ReadCloud.
Still having trouble accessing Interactive Contet?
Reach out to our lovely support team using the button at the top right of this page. They will be happy to help you troubleshoot your login and advise you of what steps you can take next.